Ed Roberts, a Berkeley quadriplegic who began the disability rights movement 40 years ago, now has his own California day. Gov. Arnold Schwarzenegger signed a bill in July, 2010, creating Ed Roberts Day, encouraging schools and other institutions to educate the public about the disability-rights pioneer every year on his birthday, Jan. 23.
Ed Roberts has come to symbolize the Independent Living movement and its impact on American society. Roberts was behind the opening of the Center for Independent Living in Berkeley in 1972, for which he was Executive Director until late 1975. CIL, in turn, became a model program for fledgling centers around the country and profoundly shaped the development of independent living.
The beginnings of Roberts's career in disability advocacy may be traced to his entrance into the University of California at Berkeley in 1962, at the age of 25. Roberts was paralyzed from the neck down because of polio, which also required resting in an "iron lung" for many hours each day. Although many people with extensive mobility restrictions now attend colleges, it was a revolutionary concept in the early 1960s. Unaccustomed to accommodating students like Roberts, the university housed him in the third floor of Cowell Hospital, where he was aided by friends and attendants with eating and dressing. Despite being segregated from the rest of students, Roberts excelled in his studies, and obtained a master's degree in political science.
Roberts's success opened the doors for other people with similar impairments. By 1967, 12 students who called themselves the "Rolling Quads" had joined Roberts. One outcome of their brainstorming sessions about how to improve their self-sufficiency was the creation of the federally-funded Physically Disabled Students' Program (PDSP), a program to enable disabled students to maximize their independence through counseling, personal attendant referrals, and wheelchair repair. CIL emerged from PDSP as an attempt to carry the university program's mission into the community.
After leading CIL from 1972 to 1975, Roberts became the Commissioner of California's Department of Rehabilitation, appointed by Governor Jerry Brown. Roberts was now the chief of an agency which many years before had denied him rehabilitation services, because they considered him "unemployable." He used the authority of his position to advocate independent living throughout the state of California. This in turn attracted the attention of Congress, which held hearings about independent living in Berkeley and then passed legislation in 1978 to develop independent living centers around the country.
After Brown left office, Roberts joined Judy Heumann and Joan Leon to found the World Institute on Disability in 1983. A year later he received a John D. and Catherine T. MacArthur ("Genius") Fellowship in recognition of his human rights work. Later in the 1980s Roberts helped found Disabled Peoples' International, an organization dedicated to uniting disability organizations from around the world. He traveled extensively throughout Europe and Asia to promote international disability awareness. Roberts died in 1995. –most of the above is from the NPR
archives by Jonathan Young.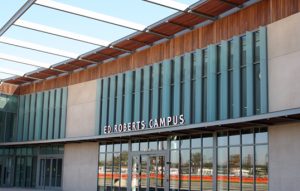 The Ed Roberts Campus
is a new (2010) nonprofit corporation that has been formed by disability organizations that share a common history in the Independent Living Movement of People with Disabilities. These organizations have joined together to plan and develop a universally designed, transit-oriented campus located at the Ashby BART Station in South Berkeley.