Mary Margaret Moore
Colleen Flanagan
Senator Thomas Kennedy
Ed Carr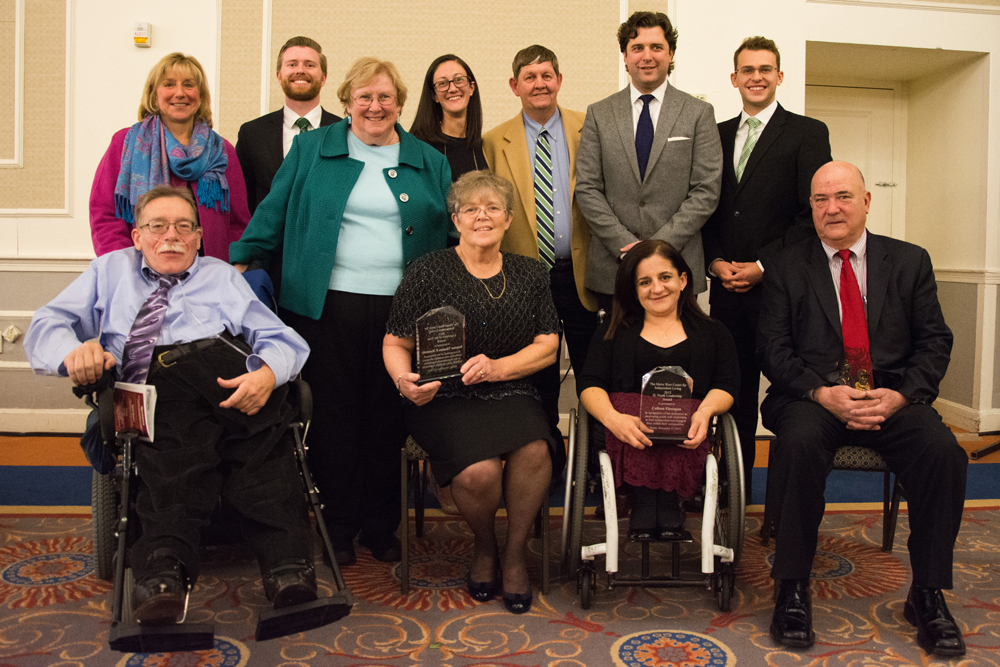 Awardees including Senator Kennedy's staff, Senator Spilka and Paul Spooner
Mary Margaret Moore – Independent Living Advocacy Award
2015 Independent Living Advocacy Award is presented to Mary Margaret Moore in recognition of her career of leadership and commitment to advancing the civil and human rights of people with disabilities.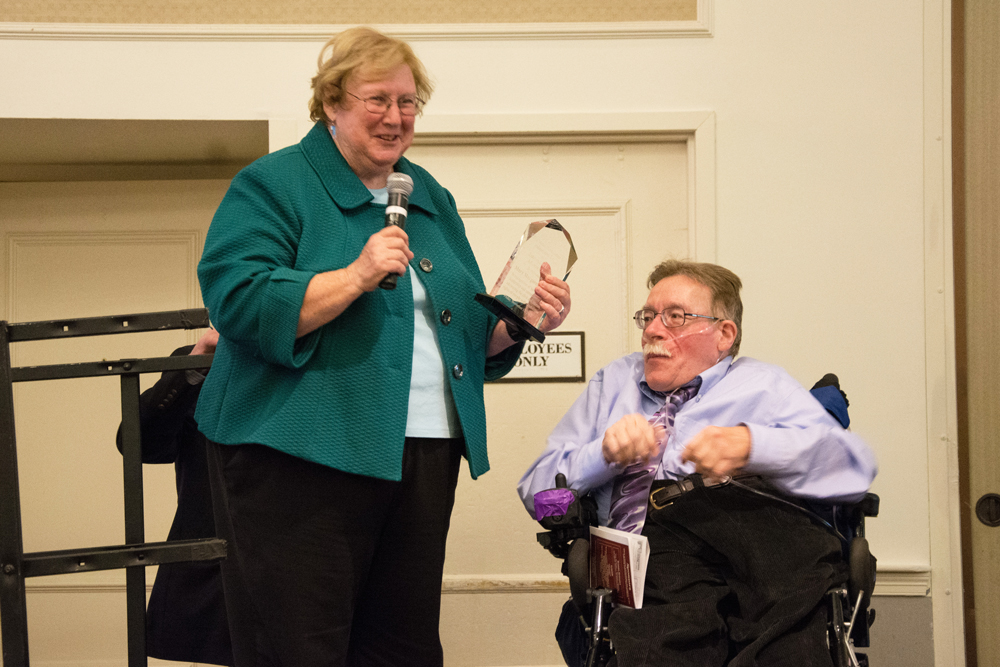 Executive Director since September 1998, Mary Margaret steers the ILCNSCA.
She has been appointed by the Governor to the MRC State Rehabilitation Council and Statewide Independent Living Council for terms during her time as Executive Director. As an active member of the National Council on Independent Living, Mary Margaret has been the Region 1 Representative and was recently elected as a Member at Large. She founded, and is co-chair of NCIL's Women's Caucus and ADRC Task Force. She is also the first President of the Board of the Aging and Disability Resource Consortium of the Greater North Shore and Cape Ann, Inc.(ADRCGNS, Inc.)
At advocacy events, Mary Margaret is a force. She participates in determining the dialogue and priorities at the national, state and local levels. She is the first to speak out, loudly and clearly, about injustices and needs for people with disabilities, and other groups who are discriminated against.
Mary Margaret has a long history of working in social services. She worked for many years, with a wide variety of responsibilities, at the Department of Mental Health. Her expertise spans drug rehabilitation, emergency services and developmental disabilities.
Sean McDuff, a colleague at the ILC of the North Shore and Cape Ann, shared the following:
Mary Margaret is a "strong role model and leader in the LGBT community. She is definitely one of the strongest, most dedicated and determined women I have ever met—a relentless advocate. She was the 2014 recipient of the North Shore Distinguished Leadership award from the North Shore Chamber of Commerce. Her wife is Marcia who keeps Mary Margaret in line."
We honor Mary Margaret with this award in appreciation for all she has done to advance civil rights for people with disabilities. Her contributions are significant!
Colleen Flanagan – IL Youth Leadership Award
2015 Youth Leadership Award is presented to Colleen Flanagan in recognition of her dedication to motivating youth with disabilities to lead independent and engaged lives within their communities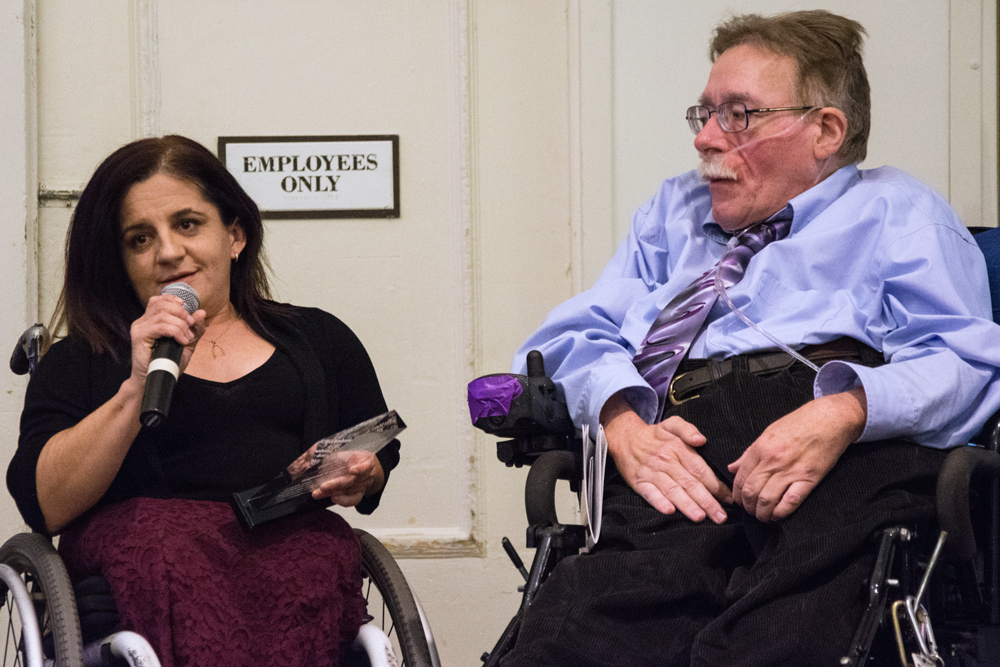 Colleen grew up in Massachusetts with a disability which did not slow her down at all. Colleen enjoyed the Easter Seals swimming progam and summer camp, and was an early spokesperson for Easter Seals. She understands the importance of inclusion, leadership, and employment for everyone. As an effective leader herself, she has been able to mentor many young people.
Joe Bellil, VP of Public Affairs at Easter Seals, Ma, shared the following:
"Colleen Flanagan, Youth Services Program Coordinator, worked for Easter Seals Massachusetts for almost 10 years.
Colleen was instrumental in developing Easter Seals's youth leadership programs. Without her drive, passion and vision for empowering youth with disabilities we would not be doing youth leadership nor would we be moving forward on transition services in schools.
Colleen put youth programs on Easter Seals' radar screen and, through her public advocacy, she put them on the radar screens of other agencies and policymakers.
Beyond these significant contributions, Colleen has also mentored many young people and empowered them to lead more independent and engaged lives. There is no stronger advocate for people with disabilities than Colleen Flanagan.
Colleen is continuing her career in achieving social justice and promoting inclusion. She continues to do some work with us on a consulting basis focusing on advocacy. She recently testified for more employment opportunities for people with disabilities at a Task Force on Persons Facing Chronically High Rates of Unemployment hearing in Roxbury. She is also member of the Massachusetts Attorney General Healey's Disability Rights Advisory Committee."
We thank Colleen for her exceptional work with youth with disabilities! Our young advocates are lucky to have her in their court.
Senator Thomas Kennedy – Legislator of the Year Award
2015 Legislator of the Year Award is presented to Senator Thomas Kennedy in recognition of his leadership and steadfast advocacy in the Massachusetts legislature in behalf of the disability community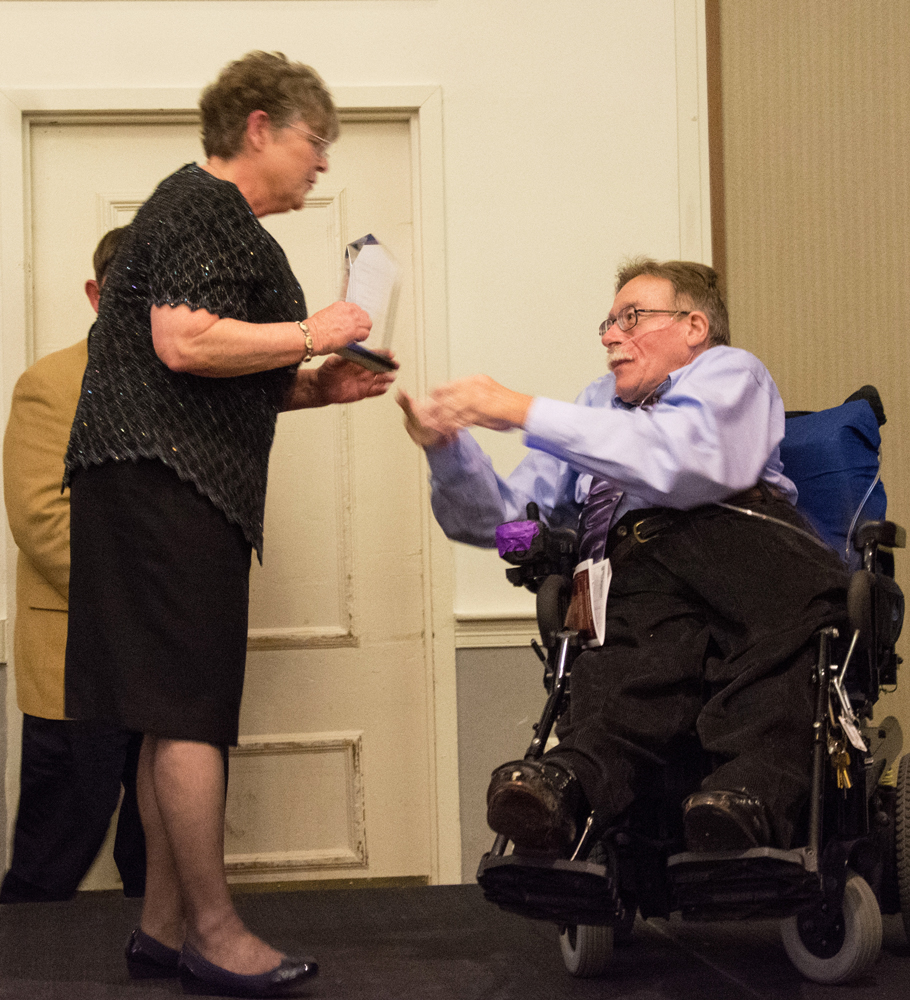 Clare Holgren, wife of Senator Kennedy, accepts his award from Paul
Tom Kennedy loved to help his constituents and all people in Massachusetts. He especially focused on those without a voice. A need was not satisfied until he personally could see the results—whether it was directing an individual to the right services or crafting legislation.
Senator Kennedy spent 40 years in the Massachusetts legislature—in both the House and the Senate. A recent look at the bills he was currently sponsoring and co-sponsoring at the time of his death showed a broad range of proposals with many for people with disabilities. These included Better Access to Healthcare, Reimbursements to Interpreters, Children's Sight, and many more.
Senator Kennedy was a life-long resident of Brockton. After high school, he entered the seminary to become a priest. An accident left him a quadriplegic, and he returned home.
He completed undergraduate degrees at Massasoit Community College and Stonehill College, and a Master's degree at Harvard University.
Mayor David Crosby (Brockton) invited Kennedy to join his staff. He thrived in politics, and was soon elected to the Brockton City Council. In 1983, he competed against 9 candidates for a state representative seat and won. In 2008, won the Senate seat that he held for 7 years.
Through all his years in public service, Tom Kennedy never forgot who he was working for, and never took his position for granted. He was well known and loved by his constituents.
Sadly, he passed away in June this year, leaving a significant legacy of legislation for the people, including people with disabilities.
MetroWest, and the Commonwealth, are grateful to Senator Kennedy for his successful advocacy on Beacon Hill.
Ed Carr – Margaret A. Spooner Service Award
The first Margaret A. Spooner Service Award is presented to Edward Carr in recognition of his outstanding and selfless efforts to strengthen the MetroWest community by promoting inclusion for all its members, notably Veterans and persons with disabilities.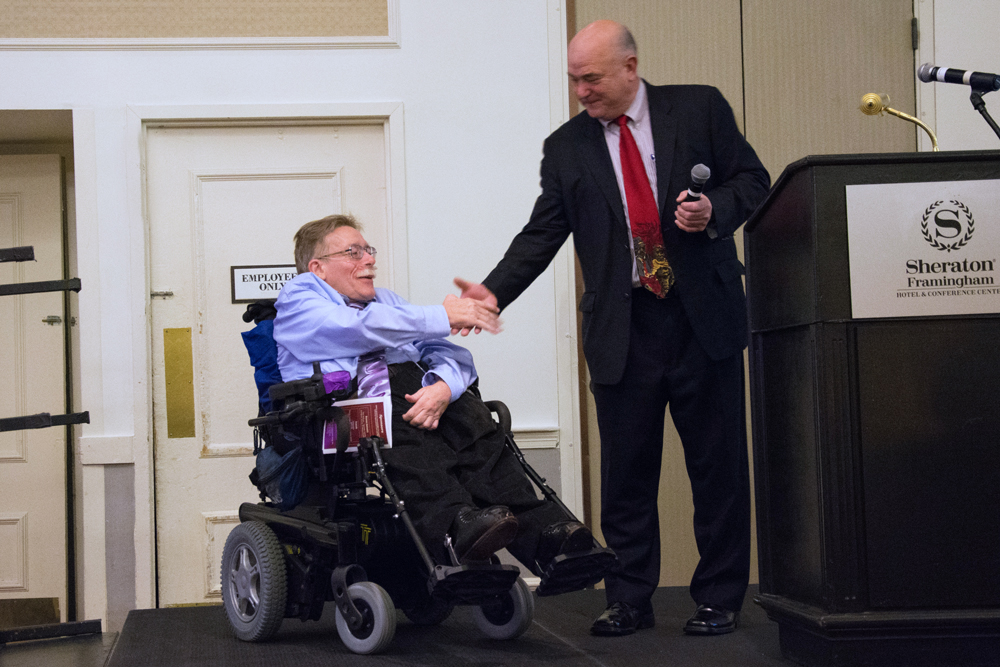 The first recipient of the Margaret A. Spooner Service Award had to go to someone we love. Ed Carr fits the bill! He never misses an opportunity to step in and help us out—from providing the comedic relief at our really fun(?) fundraisers to finding an accessible van and driving us to the 25th Anniversary of the ADA Celebration in Boston. And we are not the only recipients of his help.
Ed has been on the MWCIL Board of Directors for many years. He has been mentored by Paul Spooner, and is now directly serving the disability community through a new employment program at the MetroWest Regional Transit Authority.
Before moving to new headquarters, Ed conferred with staff with disabilities, and designed the new Call Center with universal access. Desk heights are adjustable for people who use wheelchairs. He worked with the Commission for the Blind and found that vision impaired staff simply needed special software and hardware. Simple accommodations have resulted in a hardworking, effective and loyal workforce. 40 % of the Call Center now is staffed with people with disabilities.
Ed grew up in Natick. He dropped out of college in 1968 and joined the Marines. He was a Forward Observer and a Vietnamese Language Specialist in some of the heaviest combat in Vietnam. After the war, he returned to college and completed a masters degree.
Over the years he has volunteered his time to the community in many ways—as a football coach, as the host of a veteran's radio show, and as a Natick selectman, to name just a few.
MWCIL, and the entire MetroWest Community are grateful to Ed for all of his selfless service!